DECEMBER
Nine Mornings
The unique Vincentian cultural tradition of "Nine Mornings" is enthusiastically celebrated in Bequia. For the nine nights before Christmas, music, singing and revels takes place up and down the island in an exuberant countdown to Christmas.

The precise origins of the custom are unknown, although it is believed to have developed in St. Vincent after emancipation, (and in its present form in the late 19th /early 20th century) as a fusion of multicultural forms of celebration - such as music, drums and dance - with the Christian festival of Christmas, and later, in association with the early morning Christmas Novenas, formerly celebrated at midday by the Catholic church.

Nine days before Christmas musical activities and carols often take place under the Almond Tree - sometimes starting at 4am in the morning - to the surprise and delight of many visitors longing for a good carol or two!

So don't be surprised if you hear songs and reveling into the wee hours in Christmas week; its all part of Christmas on Bequia!

Bequians take their carolling very seriously. Shortly before Christmas groups representing the islands villages and communities compete in an evening carol competition attended by most of the island and its visitors.
The only thing that is missing from Christmas on Bequia is snow! The Christmas spirit is the same on the island as anywhere in the world - good will and season's greetings abound, families and friends get together, and shops are full of unusual gifts and delicious treats. Midnight services on Christmas Eve at both the Anglican church in Port Elizabeth and the tiny Catholic Church in Hamilton welcome all worshippers.
The centre of Port Elizabeth and often whole villages take pride in their annual "lighting up" at this time of year, all adding to the festive spirit.



On Christmas Day, as on Christmas Eve, hotels and restaurants offer traditional Christmas fare with all the familiar trimmings - with that extra West Indian flair.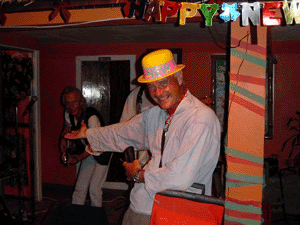 New Year's Eve in St. Vincent & the Grenadines is more commonly, (and quite sensibly!) known as Old Year's Night, and Bequia really knows how to "ring out the old and ring in the new"! The harbour fills with visiting yachts, and ashore there are celebrations in every restaurant and bar - all the stops are pulled out for this one special night of the year. A spectacular firework display over Bequia Harbour is the highlight of the evening. Made possible by the generosity of private individuals and Bequia's business community, it's a climax to the holiday celebrations that no one will want to miss.


Happy New Year!


Midnight is accompanied by a sky lit up with fireworks and flares, popping corks and warm embraces - and then the partying really begins!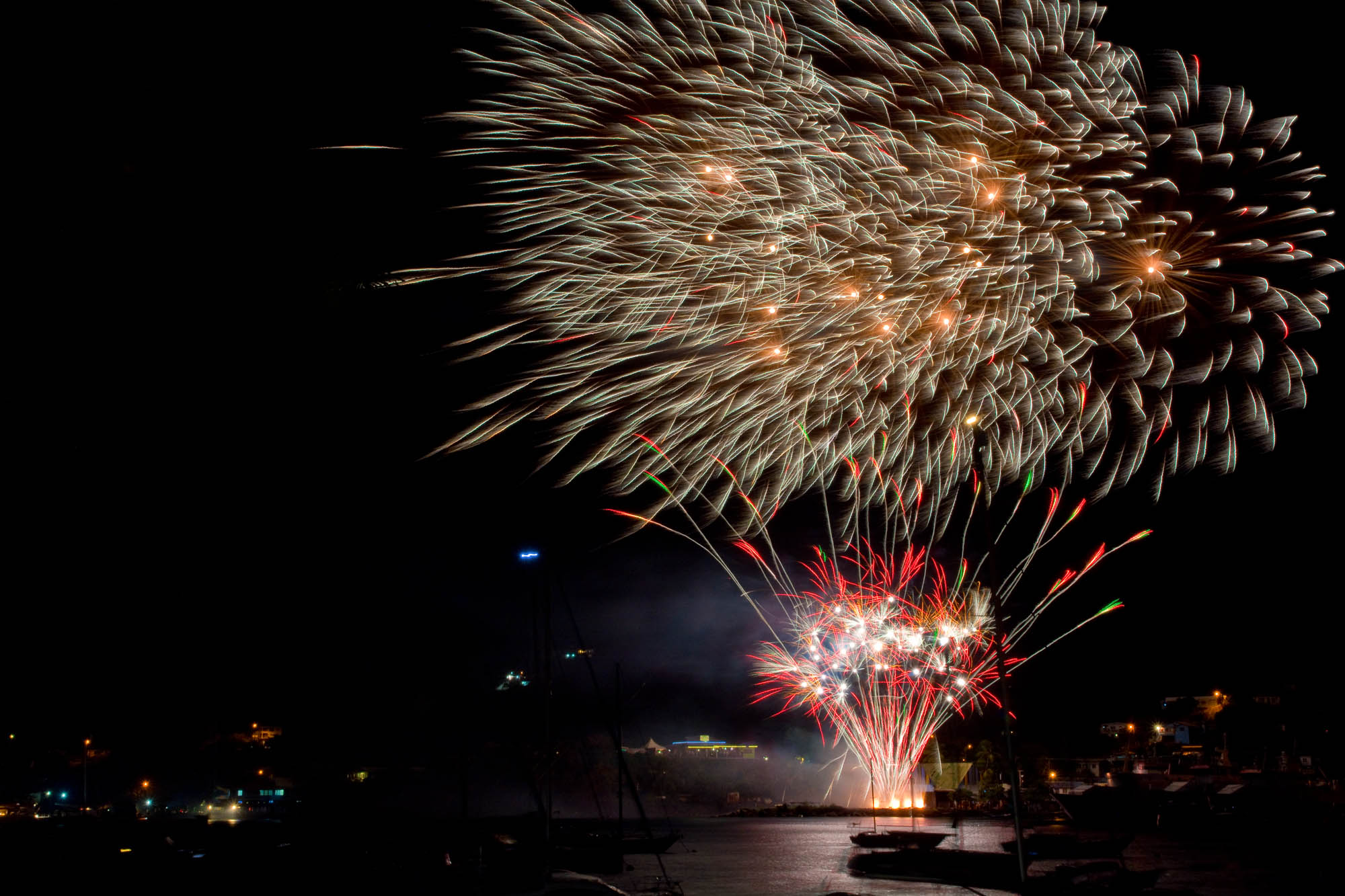 Bequia's Admiralty Bay at Midnight
JANUARY 2019
16th Bequia Mount Gay Music Fest 2019,
January 31st - February 3rd
Bequia Mount Gay Music Fest 2019
The Bequia Tourism Association, in conjunction with the St. Vincent Tourism Authority, is the organising body responsible for putting on what has become one of the hottest and coolest festivals in the region, drawing rave reviews.

The Bequia Music Fest started in 2000 when the BTA worked with Basil Charles to bring his world-famous Mustique Blues Festival to Bequia for one glorious evening in January.

In the ensuing years, the Bequia Music Fest expanded into a four-day event with a wide range of international, regional and local artistes of all musical genres coming together to bring a feast of entertainment to the islands' and nations' residents and visitors alike.

Informality, smooth-running and the love of music is what brings people back year after year, and wins new fans of Bequia's signature tourism.

For full details check the website:

or at Facebook
FEBRUARY 2018
Sunshine School Auction, Sunday, 11th February 2018
The Bequia Sunshine School for Children with Special Needs holds its annual Sunday fund-raising auction in mid-February. This very special school is a privately funded educational institution primarily administered by a local board of directors. Currently the government pays the salary of three teachers; all other costs have to be raised by private donation and fundraisers - thus the need for funds is constant.

The benefits of the school to Bequia's children with special needs are huge, and vitally important to their development as individuals. Currently the school caters for 30 children attending daily classes; their progress in all aspects of learning and skill training is extraordinary - due in no small part to the dedication of the teachers.

First conceived as a "yachties" auction back in 1990, the ever popular annual auction is now a firm fixture in the tourism season, and most importantly a vital source of revenue for the school. Items for the auction, and for the Jumble Sale which follows later in March, are all donated by well-wishers and energetically amassed and sorted by the auction organisers in the weeks before.


There could be literally anything up for sale - jewellery, antique prints, art work, clothing, furniture, household items, marine items, donated dinners and services and handicrafts made by the students at the school are all likely to be on offer.

EC$30,000 is enough to cover the running costs of the school for four months, and this is the target that is aimed for each year.

To find out more about Bequia Sunshine School contact:
email sunshine@vincysurf.com
or visit www.bequiasunshineschool.org
MARCH / APRIL 2018
Bequia Easter Regatta 2018
(March 29th - April 2nd)
For as long as any one can remember, there has always been a Bequia Regatta. Formerly at Whitsun, now for the last 35-plus years held at Easter, Bequia's Regatta is rightly famous for its unique blend of local double-ender racing, yacht racing, shoreside activities and Bequia hospitality.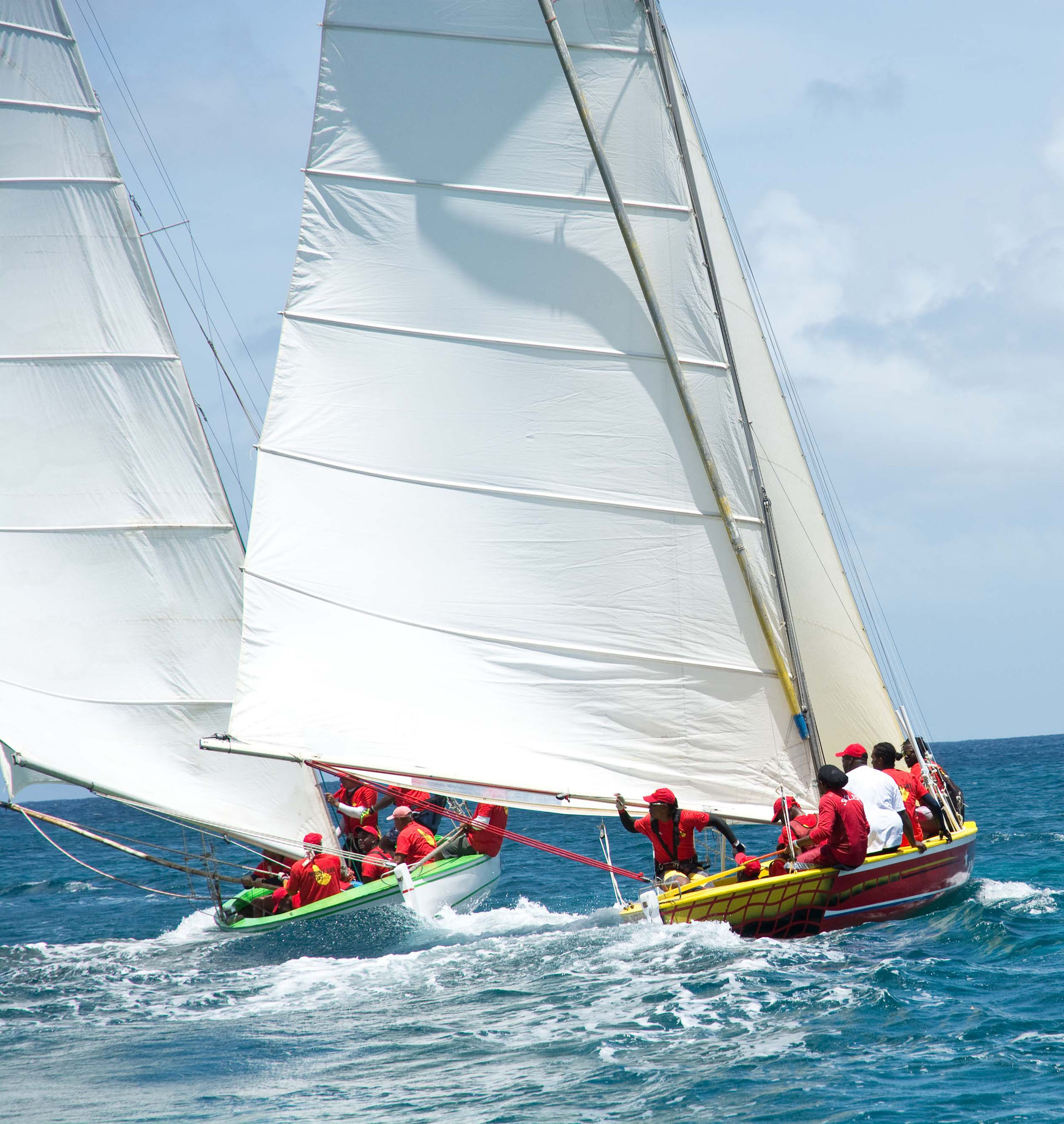 A fleet of twenty or more traditional local boats from Bequia and her neighbouring islands, some no more than 12 feet long, others a majestic (by comparison)
28 feet in length and capable of extraordinary speed
and agility, compete out on the sparkling waters
around Bequia.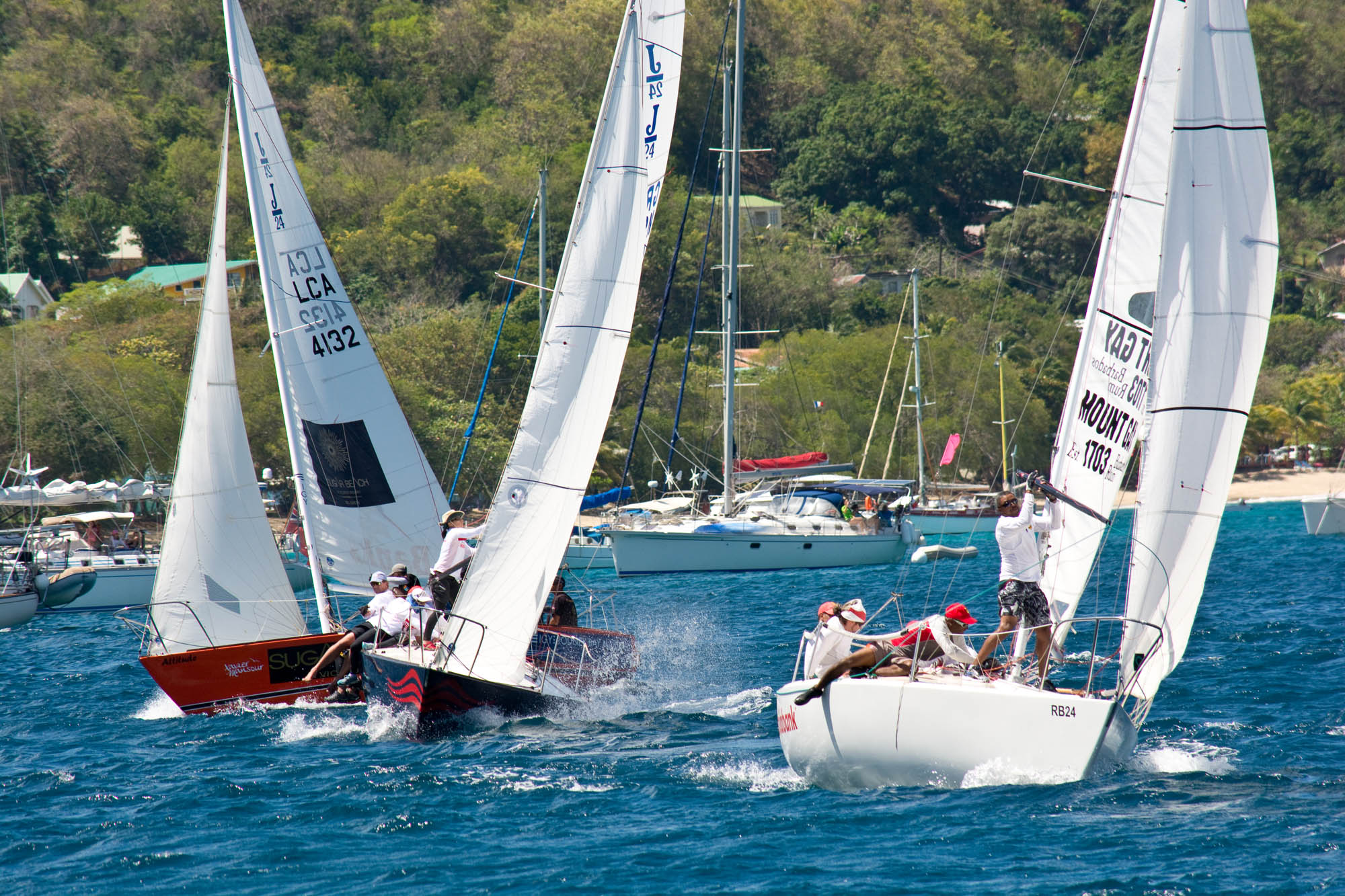 And on the same waters, upwards of thirty yachts compete in five CSA-officiated Classes - every one of them racing with the same verve and determination, striving to achieve that perfect harmony of boat, wind and sail.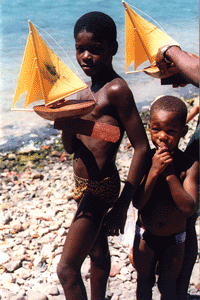 It's a fabulous, colourful weekend, full of fun and camaraderie, skill and tradition, with the whole island caught up in regatta fever. Sunday's Regatta Lay Day on Lower Bay beach sees a grand fete for boatloads of visitors from the mainland.
The hard working volunteer members of the Bequia Sailing Club are responsible for putting on this high profile event every year, and the event is internationally renowned for being one of the largest regattas in the region, with well-run, challenging yacht races which include the six-race series which decides the annual J24 Southern Caribbean Championship.

The island is almost full to bursting for the Easter period, and the harbour is packed with yachts. People come from all over the world just to be in Bequia for regatta, and none are ever disappointed. The island puts on its best and brightest show, and everyone just loves it!
JUNE


Bequia Carnival
Bequia Carnival takes places at the end of June, and is a delightfully informal and spontaneous affair.

With St. Vincent's "Vincy Mas" now the nation's premier tourism event, Bequia's own Carnival looks set to move forward as well and become a true small island carnival and a permanent fixture in the island's cultural calendar.
JULY

Fisherman's Day
If Bequia Regatta is a celebration of Bequia's traditions of boat-building and seamanship, Bequia's Fisherman's Day (held on the first Saturday after Vincy Mas) is a lively and fiercely contested demonstration of the island's abundant skills at harvesting the waters that surround the island.

Once again the Rotary Club of Bequia are the organizers, with the famous "Rotary Wives" doing a fine job in cooking up the catches and providing delicious fresher-than-fresh barbecue and baked fish lunches, complete with rice'n'peas, dasheen, yams, plantains, green bananas, coucou, breadfruit and coleslaw.




The competition begins at first light, and all catches have to be in by early afternoon. Not surprisingly, it's the biggest catch by weight that wins, but there are various categories for the different types of fishing - trolling, bottom line deep water, bottom line inshore, etc. Plus of course a special prize for that all important Biggest Single Fish!

Spectators also get an all too rare chance to buy as much fresh fish as they want, straight off the dock and those in the know come prepared with bags to carry their purchases away!



Bequia Basketball
PUBLIC HOLIDAYS
March 14: National Heroes Day

"Chatoyer the chief of the Black
Charaibes in St. Vincent with his 5 wives"

Late 18th century engraving from
1773 original by Agostino Brunias

2002 was the first year that National Heroes Day was celebrated in St. Vincent & the Grenadines. On this day the country remembers the death of the country's first national hero, Carib Chief Joseph Chatoyer who was killed in 1795 during the second Carib War - a fierce and determined resistance to the British occupation of St. Vincent.

After Chatoyer's death, the Caribs continued their defiant fighting for the next year or more, only finally surrendering in late 1796.

The British were so determined to rid St. Vincent of all possibility of future Carib resistance that virtually the entire Black Carib population - close to 4500 in number - were shipped to the uninhabited island of Balliceaux off Bequia's north east coast, to await onward transportation to Roatan in the Gulf of Honduras.

But by March 1797, when transportation from Bequia to Roatan began, it is estimated that nearly half of the Caribs had failed to survive their months of exile on Balliceaux, and still more died on their journey to Roatan.
August 1: Emancipation Day
On August 1st 1834, the "Act for the Abolition of Slavery in the Island of Saint Vincent and its Dependencies" came into effect. However for the 22,500 slaves in St. Vincent at that time, their life was not noticeably changed. Only slave children under the age of six (officially recorded in 1835 as being 2,959) became free as of that date.

The remainder, including about 14,000 attached to estates, were subjected to a further four years of 'apprenticed labour' wherein "such person shall be entitled to the services of such apprenticed labourer as would for the time being have been entitled to his services as a Slave if this Act had not been passed".

Full emancipation was finally granted to all former slaves on August 1st 1838.
October 27: Independence Day
St. Vincent & the Grenadines achieved its independence from Great Britain in 1979.
The state remains a part of the British Commonwealth of Nations.
December 25: Christmas Day
December 26: Boxing Day

Back to Top
© BTA 2017