SAINT VINCENT
St. Vincent & the Grenadines Department of Tourism
Kingstown St. Vincent
www.discoversvg.com
tourism@vincysurf.com
Tel: 784 457 1502
Fax: 784 457 2425
MARTINIQUE
Karib Tourism Department, Marketing & Promotion Office
122Ter, Rue Victor Hugo, Fort de France 97200, FWI
widktd@wanadoo.fr
Tel: 596 596 638 686
Fax: 596 596 638 886
CANADA
Consulate of St. Vincent and the Grenadines
333 Wilson Avenue, Suite 601, Toronto M3H IT2, Canada
Tel: 01 416 398 4277
Fax: 01 416 398 4199
UNITED KINGDOM
St Vincent & The Grenadines Tourist Office
10 Kensington Court, London W8 5DL, England
svgtourismeurope@aol.com
Tel: 207 937 6570
Fax: 207 937 3611
USA (NEW YORK)
St Vincent & The Grenadines Tourist Office
801 2nd Avenue, 21st Floor, New York, N.Y.10017
svgtony@aol.com
Tel: 212 687 49 81 / 1 800 729 1726
Fax: 212 949 5946

---
GENERAL INFORMATION
Ins and Outs of St. Vincent & the Grenadines 2017
A beautifully produced glossy magazine, full of articles, information,
great photos - and an excellent Bequia section. Published annually.
---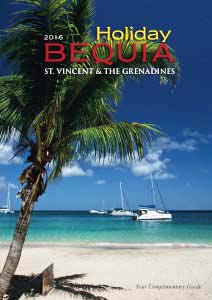 Holiday Bequia 2016
A handy sized comprehensive guide to Bequia and Bequia businesses, packed full of information. Published annually. Available from all SVG Tourism Offices, and everywhere once you get to Bequia.
A must for visitors.

---

www.actionbequia.org
Action Bequia uses an action orientated entrepreneurial approach to identify and enable local self help initiatives, including finding the necessary finance. One of Action Bequia's highest profile projects to date is the ongoing restoration of Bequia's Belmont Walkway.
---
| | |
| --- | --- |
| | The very first Bequia information website, started back in 1998. A real labour of love and full of useful tips and information. |
---
PERSONAL VIEWS
| | |
| --- | --- |
| | Lynn McKamey has travelled extensively in the Caribbean and her site offers commentary and reviews on numerous locations and dive sites. Her Bequia page gives a real flavour of the island from the visitors' point of view. Several photos on this site have been kindly donated by Ms. McKamey. |
---
BACKGROUND INFORMATION

Caribbean Compass
The Caribbean's monthly look at Sea and Shore.
An on-line digest of the hugely popular yachting and marine newspaper,
which is available free at marinas, yacht clubs, chandleries and other outlets
throughout the Caribbean from Miami to Venezuela - and published in Bequia!

Yachties - this one is for you! Chris Doyle has been writing sailors' guides to the Caribbean
for years, and for many these handy books have become "Cruisers' bibles".
Check out what Chris has to say about Bequia - and beyond.


---
Weather Channel
Great for satellite images of the Caribbean and the Atlantic.
Wunderground
Excellent detail and forecasting, including storm tracks,
winds, pressure and sea temperatures as well as visible and infra-red satellite imagery.

Intellicast
More maps, time-lapse loop and storm tracking - a site for real weather buffs.