There is far more to Bequia than just its beaches, its quaint waterfront bars and shops, and its sleepy yet bustling little main town and harbour.

Most visitors to the island, even if they are only here for the day, take time to explore - either by taking an Island Tour in one of Bequia's famous open backed taxis, (takes about 3 hours) or by renting a car and exploring for themselves. How better to get to see the whole picture, and understand why Bequia is such a fascinating, special place, so full of contrasts?

Island Tours are what Bequia taxi drivers do best: leisurely and informative, you will get to see as much or as little as you want, and always with full commentary! Tours are tailored to your wishes - just agree a price beforehand. Enquire at the Tourism Office for recommended taxis.

Travel a short distance away from the heart of the island in Port Elizabeth, and you will find lush green meadows, deserted beaches, spectacular views down the Grenadine islands, densely wooded hillsides, fishing villages, boat-builders executing a skill passed down for generations, artists' studios, windswept hillsides alive with sheep and goats, fabulous flora and fauna, and a real sense of history and heritage hidden just below the surface.

---
This beautiful old church was erected in 1829, replacing the older structure which was destroyed in a hurricane. Imported ballast bricks as well as local limestone were used in its construction, which may go some way towards explaining its cost, which at the time was recorded at some 4,700 pounds.

The church's cool, simple interior contains many fascinating memorial tablets to some of Bequia's earliest settlers, as well as present day stained glass memorials to some of Bequia's illustrious and much loved residents.
---
Hamilton
Along the north shore of Admiralty Bay, just outside of Port Elizabeth and on the way to Hamilton Fort, is the small fishing village of Hamilton. Colourful boats pull up on the sandy shore and small rum shops dot the roadside.
Hamilton Fort
On the northern point of Admiralty Bay, beyond Hamilton village. The original structure is long gone, but both French and English cannon retrieved from the waters around Bequia are now placed there; the view alone is worth the visit. The defence of the entrance to Admiralty Bay was a priority for the British. In 1771, the harbour was described as being "very fine, where Ships of Force may safely ride", and ideal for careening (no such harbour existed in St. Vincent).

Due south of Hamilton Fort, on the small headland above Lower Bay, there was a second fortification, and the approach from St. Vincent was covered by additional emplacements a few hundred feet North of Hamilton Fort. Eleven cannon in all were recommended for these three batteries, at a total estimated cost of 1500 pounds - a huge sum in those days.
---
Spring and Industry
Travel east out of Port Elizabeth (along the only road) and you will come to the lush meadow of Spring, with tall waving coconut palms, and quietly grazing cows, horses and sheep. This land was once the Spring Plantation - one of the largest on Bequia, and the ruins of the old sugar mill are still standing.


Spring Plantation

The plantation (left) is still a working one, now growing mainly fruit. The Firefly Hotel, present owner of the plantation, is built on the foundations of the plantation's 18th century estate house.



Spring's ruined sugar mill

Bananas growing in Industry

Beyond Spring on the same, single road, is Industry Bay - site of another former plantation.
Just off the "main" road, behind the coconut palms are some crumbling overgrown ruins and an old well which are an evocative reminder of the area's past, and well worth exploring.

The beach here is the perfect "get away from it all" spot, with good snorkelling on the reef when the water is calm. A small traditional inn set right on the beach is famous for its perfect setting and great full moon barbecues!
---
OldHegg Turtle Sanctuary
The next bay on from Industry, over a rocky headland brings you to Park Beach, now home to Bequian Orton (Brother) King's turtle sanctuary. A true labour of love, Brother King has been providing a nursery for young Hawksbill turtles since 1995.

The turtles are cared for from birth to about 18 months when they are tagged and returned to the ocean. A former skin-diving fisherman, Brother King welcomes visitors enthusiastically and delights in sharing his passion and knowledge with others.
---

Mount Pleasant
The highest accessible point in Bequia, with sweeping views first over Admiralty Bay as the road winds upwards, and then from the summit, down over the southern Grenadines. The inhabitants of Mount Pleasant are a close knit community, many descendants of the English and Scots settlers who first came to Bequia in the 18th century and 19th centuries.

A reconstructed plantation house, now a 6-room inn, offers a glimpse into the past, with an intriguing display of petroglyph rubbings from St. Vincent - said to be over 5000 years old - and more recent locally excavated treasures from the colonial age.

Photo courtesy Lynn McKamey
---
"South Side"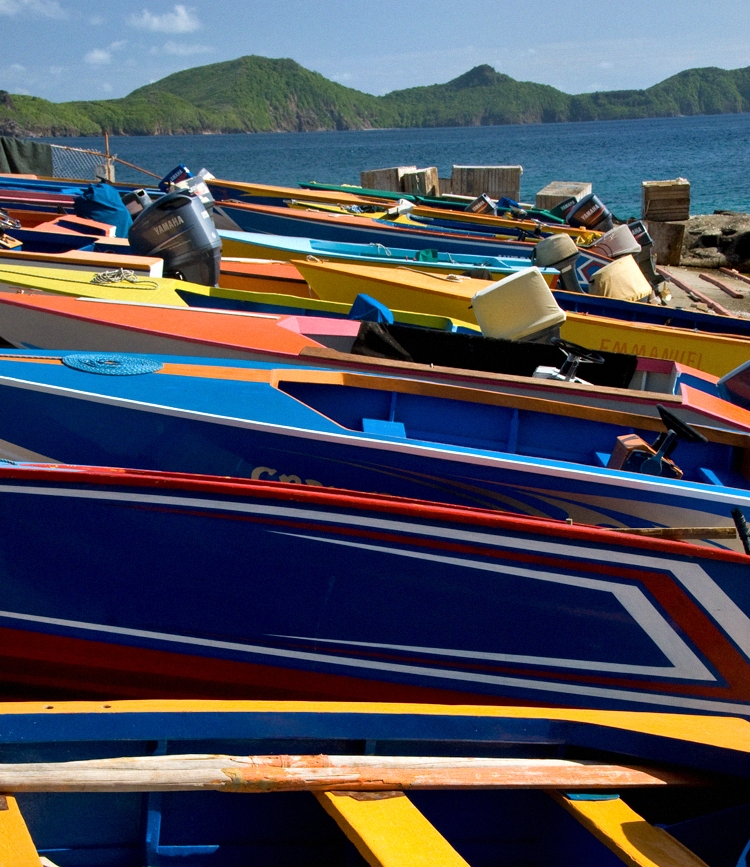 Bequia's southern side is and always has been, the heart of the island's seafaring activities. The first view, from the crest of the hill road out from the harbour, is the broad sweep of Friendship Bay, with the island of Mustique in the distance. Below amongst mango trees is one of the few areas where traditional staple crops of cassava, corn and pigeon peas are still cultivated.
At the bay's west end, working local fishing boats are pulled up on the beach, and steps lead to the main road and village of La Pompe. This sea-side road leads to the small fishing community of Paget Farm. Despite the use of outboards engines, the presence of a small fishery and the advent of the airport beyond the village, life has not changed much here in decades.
---
HIKING
Perhaps the best way to really get to know Bequia and its hidden treasures is on foot. Early morning or late evening are the ideal times of day - but whenever you go, remember to take water, a hat and sunscreen! Just exploring the winding roads on Bequia can be a revelation, but there are also smaller trails and disused roads to take you deep into the heart of the island.


Brazi

Make sure you can identify the vicious "Brazil" plant (Latin name - Comocladia Dodonaea (L.) Urban). "Brazil" is a member of the Anancardiaceae family - to which Poison Ivy and Poison Oak also belong, and the effects of contact are similar.

All of these toxic plants produce an an allergenic oil, urushiol, which causes severe itching followed by blistering two or three days after even the slightest contact with leaves or bark in which the sap is running.
Wash skin with cold water if you think you have had contact; also wash clothing you have been wearing.Do NOT touch!!
---
Hiking & Tours in Bequia and St. Vincent

BEQUIA

Firefly Plantation Tours, Spring

Firefly Plantation Spring Bequia


Built on the foundations of an 18th century estate homestead, Firefly Plantation is set in 30 acres with hillsides of wild cinnamon and orchards producing oranges, grapefruit, bananas, breadfruit, guava, Bequia plums, sour cherries, mangoes and a variety of exotic crops. Enjoy a leisurely guided walk (approx 45 mins) through the grounds with our head groundsman who will give a brief history of the plantation and sugar mill.

Sample fruits and vegetables in season and learn about the various crops, herbs and flowers growing there. Please wear suitable walking shoes.
EC$10 per person - children welcome! 
Afterwards enjoy a refreshing drink at our bar, or a delicious lunch or dinner in the hotel restaurant overlooking the plantation. 


www.fireflyhotels.com

info@fireflybequia.com 

Tel: (784) 458 3414
---
Ramblers Hiking Tours

View from Bequia's Mount Peggy


Ramblers Hiking Tours offers guided hiking for those wishing to explore Bequia and St. Vincent. Enjoy locations rarely visited, as you are guided from secluded beaches, through forest trails, to wind swept mountain tops with stunning views, while learning more about the history and culture of the people and the islands.

For full details of the various guided hikes provided, including short videos and photos of many of the hikes, please visit,

www.hiking-bequia.com
donnaka.hiking@gmail.com
Tel: (784) 430 0555
---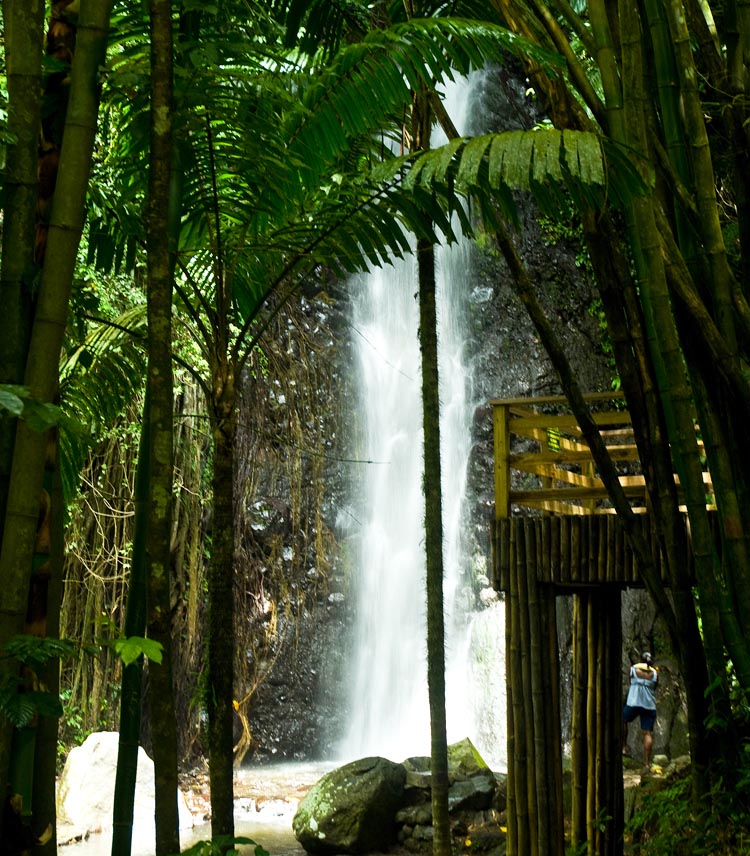 The nearby island of St. Vincent, capital of the island state of St. Vincent & the Grenadines is rich in both natural resources - tropical rain forest, active volcano, lush fertile valleys, waterfalls, some reached only by sea, the Botanical Gardens (the oldest in the Western Hemisphere), and historical sites. Echoes of the island's chequered past of brave Carib resistance, French and British occupation, and colonial rule in both the pre- and post-emancipation eras abound.

Dark View Falls

The dome of St. Vincent's volcano

The capital, Kingstown is a busy, no nonsense town with newly opened cruiseship berth, ferry and freighter docks, Government buildings and courthouse, cathedral, fish market, vegetable market and an astonishing array of shops, both large and small.

Bananas are still island's main source of industry and employment, supplying especially British supermarkets with deliciously sweet "Windward Island" bananas.

The pace, attitude and topography in St.Vincent are in striking contrast to neighbouring Bequia, and a visit to this beautiful volcanic island is highly recommended.
---
Fantasea Tours
Fun day tours to the Tobago Cays, Mayreau, Union Island, Canouan, Mustique and the spectacular waterfalls of St. Vincent. Go whale & dolphin watching or snorkelling with turtles.
Call us for private charters, island transfers, sunset cruises, island eco tours, and hotel packages.
Enjoy our Grenadine islands; we get you there quickly and safely.

fantasea@vincysurf.com
www.fantaseatours.com
Tel: (784) 457 4477/5555
Fax: (784) 457 5577
Mobile: (784) 528 8858


---