Location
Bequia is situated at latitude 13 N and 60.15' West, in the southern part of the Caribbean chain known as the Windward Islands.
After the capital island of St. Vincent (pop. 110,000) situated nine miles to the north, Bequia is the largest of the thirty-two islands and cays that make up the island state of St. Vincent & the Grenadines. The other main islands in the Grenadines chain south of Bequia are Mustique, Canouan, Mayreau and the Tobago Cays, Union Island, Palm Island and Petit St. Vincent.
---
Size
Bequia measures just 7 square miles, and is home to about 5000 people.

---
Population
An intriguing mix of native Bequians of African, Scottish, Irish, French, Indian and Carib descent - many of whom can trace their ancestry directly back the islands earliest inhabitants of the 18th century - and more recent settlers from Europe, America and Canada who have chosen to make Bequia their home.
English is the native language, and open friendliness is a characteristic for which Bequians have always been well known.
For more about Bequia history, click here.

---
Government/Legal System
St. Vincent & the Grenadines became independent from Great Britain in 1979, while remaining part of the British Commonwealth. The Governor General is the representative of the British Crown, and is appointed by the Queen, on the advice of the Prime Minister.

The constitution is based on the British (Westminster) parliamentary system. There are 15 constituencies (Bequia and Mustique together make up the constituency of the "Northern Grenadines") and the party winning the majority of these 15 seats in a General Election forms the Government, with the party's chosen leader becoming Prime Minister.
A General Election must be held every five years, but may be called at any time.

St. Vincent's legal system also reflects the country's British heritage and is based on British Common Law.

---
Visas/Passports
Entry Visas are not required for American or Commonwealth citizens, or for those nationals of a country which has a visa exemption agreement with St. Vincent & the Grenadines.

---
Currency/Money
Local currency is the EC ("EE SEE") dollar which is tied to the US dollar at approximately US$1 to EC$2.67. Most businesses and taxis will accept US$ (normally at EC$2.60), and you may find small denomination US$ notes useful.
US$ rather than sterling travellers cheques are recommended. Credit cards are widely accepted at hotels, restaurants and boutiques, but smaller businesses may ask for EC$ or US$ cash.

ATM machines are available at both banks on the island.

---
Health
No vaccinations are required (unless arriving within six days of transit through or stay in an infected area). Water is safe to drink; as an alternative bottled water is readily available.
A healthy respect for the strength of the sun is essential - even dark skins will burn quickly if not protected. Insect repellent is a good idea if you have sensitive skin.
Weather/Climate
Daytime temperatures consistently average between 26C (79F) and 30C (86F) throughout the year. A "chilly" evening in the winter months (January to March) might see a low of around 21C (70F) and in the summer months the temperature will occasionally reach 32C (90F).
Tradewinds bring cooling breezes for most of the year; the famous Christmas Winds bring stiffer steady breezes, lively seas and perfect sailing weather.
---
Seasons
The "dry" season from December/January to late April/early May coincides with the "high" season for visitors, with clear sunny skies, good sailing breezes, low humidity and minimal rainfall. The island is totally reliant on rain for its water, so the arrival of the "rainy" season in May/June is always a blessing.
The warmer, summer months of May to November are a welcome mixture of cooling showers, sunshine and light breezes, with the occasional heavy downpour.
Bequia is far south in the hurricane belt, and although tropical storms will occasionally approach in the peak months of August to October, most disturbances either pass to the north or dissipate before they reach the Grenadines chain.

More weather links...

---
Driving/Driving Licences
Driving on Bequia's narrow roads is on the LEFT.
If you are renting a vehicle on the island you will need to get a local Driving Permit. These are available from the Revenue Office in Port Elizabeth on production of a valid national or international Driving Licence from your own country, and payment of a fee of EC$100 (about US$ 40).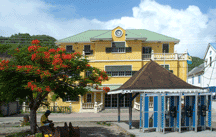 Port Elizabeth Revenue Office,
Post Office and Customs & Immigration

---
Yacht Clearance

Port Elizabeth is a Port of Entry. All vessels should clear in with Customs & Immigration on arrival.

Private Yachts (i.e."sailing for pleasure without fee-paying passengers") are required to pay a Cruise Tax to Customs of EC$5 per person per day, up to a maximum of seven days (i.e. EC$35 per person - about US$13).
Payment of this tax permits a private yacht unlimited stay in SVG waters, but the tax must be repaid if the yacht leaves SVG waters and then returns.
The Cruise Tax must also be paid by (or on behalf of) guests on charter yachts, but is NOT applicable to crew on charter yachts, children under 12, and Vincentian nationals.

Visiting Charter Yachts are also required to carry a valid SVG Cruising Licence. Rates vary according to the type of charter (bareboat or crewed) and whether boat is "locally based". Cruising Licences can be purchased from Customs in Port Elizabeth.

Bequia's friendly and helpful Customs & Immigration officers will be happy to answer any queries you may have upon your arrival.

---
Internet Access
Bequia has been "on line" for several years. There is no shortage of internet access outlets on the island. Lap top plug-ins, printing, CD burning and software and hardware troubleshooting are also available.